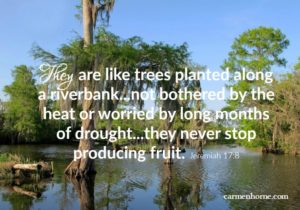 Alongside the highway that leads to our church, winds a bayou. Standing tall on the banks are massive trees. Many of their roots have become visible through erosion. Deep into the soil, reaching toward the bayou, these trees flourish. They have learned to not only survive their circumstances, but to thrive.
I want to be like those trees. Don't you? When our foundations are exposed, will they be strong enough to withstand the harsh conditions that life sometimes provides? They can be. God speaks clearly in our verse. Trust Him. Place our hope and confidence in Him. Then we will be like…
They are like trees planted along a riverbank, with roots that reach deep into the water. Such trees are not bothered by the heat or worried by long months of drought. Their leaves stay green, and they never stop producing fruit. Jeremiah 17:8
Visit CarmenHorne.com to learn more about trusting and hope.