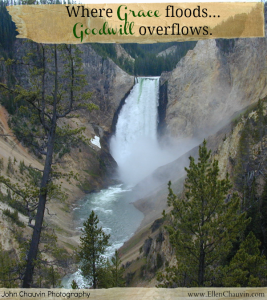 "In Him we have redemption through His blood, the forgiveness of our trespasses, according to the riches of His grace which He lavished on us…" Ephesians 1:7-8a (NASB)
I shrieked at him, pounding his desk with my tightly clenched fist. I was trying to make a point. I felt entitled to my sense of outrage, and wanted him to know. It was quite an exclamation mark.
Did I mention he was my boss? I screamed at my boss. AND pounded his desk.
What was I thinking? Obviously, I wasn't.
When five o'clock rolled around, I rushed out the door, eager to be in the peace and quiet of my home.
A few minutes after pulling onto the highway, my tire started to scream.
Read the rest of the story at EllenChauvin.com.
Ellen pens her stories from the Bayou Country of South Louisiana, but her heart and birthplace are in Mississippi.She's a Southern Belle through and through. When not writing, you can find Ellen digging in the flower beds, relaxing on her back porch, or traveling with hubby John.

Ellen has loved writing since high school, but this passion lay dormant for many decades. When her mom passed away in 2011,Ellen felt the Lord urging her to write her stories, stories that help her see His faithfulness in her ordinary, every day life.

She is passionate about scripture and shares the truth of God's word at Ellen Chauvin (dot) com. It is there that she encourages ordinary women to walk in extraordinary faith.

Ellen has contributed to Deeper Waters, The Laundry Moms, The Consilium and The Message, a study magazine published annually by the women's department of WEGOM, a non denominational evangelistic organization in
Nigeria.
Latest posts by Ellen Chauvin (see all)