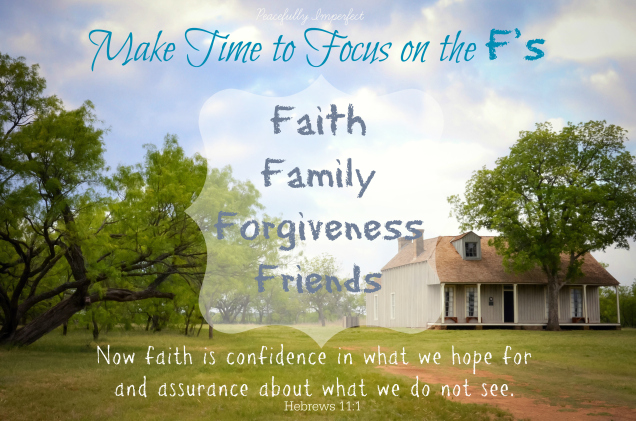 John 15:13 Greater love has no one than this, that he lay down his life for his friends.
I have a good friend who recently shared upon her retirement that she wished she had spent less time focusing on the ABC's and more time focusing on the F's. This I had to hear. In fact, I began taking notes as she talked.
She said, "you know we've spent our entire lives either trying to get A's, B's and C's, or teaching the ABC's to our students. What I wish I had done more of was focus on Faith, Family, Friends and Forgiveness."
I took a few minutes to process what she was saying, and I can tell you when we discover a moment of clarity and hindsight, we become so much smarter.
Read the rest of the story at Peacefully Imperfect.

Mitzi Neely encourages women of all ages through her experiences and shortcomings. She has been blessed witha passion and love for people that stretches across the generations. Her heart is to lighten your load, while conveying her message that nobody's perfect. So often God places certain people in your life at just the right moment; whether the reason is to help teach you, help you grow in your walk with Him, or to simply love and lift up others. Whatever your struggle or need, you will find encouragement through her words.

Latest posts by Mitzi Neely (see all)