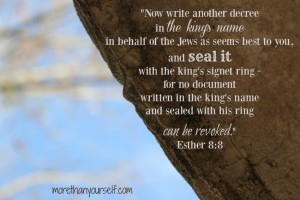 "Now write another decree in the king's name in behalf of the Jews as seems best to you, and seal it with the king's signet ring – for no document written in the king's name and sealed with his ring can be revoked." Esther 8:8 NIV
Years ago God convicted my spirit about the words that came out of my mouth. I was listening to a cassette tape of my brother-in-law preaching a sermon. (Yes, a cassette tape.) I don't remember the exact phrase he used, but it went something like this…
"Our words are meant to edify and build up others. If your words are not building others up, it's better not to say them at all."
I'd heard the old saying my entire life…If you don't have anything nice to say, don't say anything at all. But until this moment, I hadn't realized how damaging negative speech could be. God gripped my heart, and my tongue, that day. I realized then how much I needed to work on speaking positive words.
I didn't understand, however, how difficult the battle would be.
Read the rest of the story at MoreThanYourself.com.
More Than Yourself, Inc. is designed to support women in their spiritual lives, offering practical teachings mixed with real-life stories. The goal of the ministry is to share a message of contentment over comparison, and to encourage the next generation of women to do the same. Winning the battle over comparison sets us firmly on the unique path God created for each one of us.
Latest posts by Kristine Brown (see all)