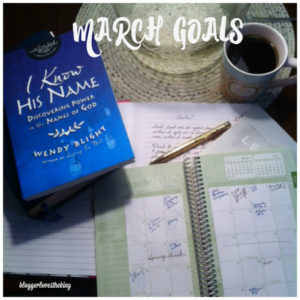 I've set goals and failed so many times, but last year I actually posted goals for the year on my refrigerator.  Believe it or not all of them were crossed off but two, and they are part of this month's goals.  So I believe if I write them down it will be a constant reminder, keeping me focused, and I will get much more accomplished this year.
One thing  I want to remember though is that no matter what my goals are that they need to reflect God and whatever His intentions are for me each day.  If I don't meet a goal it's ok if it was directed at something He has intentionally assigned me today.  I want to keep my focus on Him so that I am not disappointed when a goal is not met.  I've fallen in that trap before.  I have plans and life happens, and that is what is important.
Learn more about these goals that would be great for you to implement by visiting Debbie Williams at Blogger Loves the King.
was born and raised in Texas, with a short summer in Oklahoma.I went to church as a child, and was saved when I was in the tenth grade.It was when I met my husband in high school, and later married that God began to change my life by watching this awesome man of Godly character – servant, loving, ready to give and give and give.I didn't understand all that.

I was one of those working moms, and now that I am retired and substitute teach, I have lots of time to spend in the Word and Bible studies. I can't get enough.
Latest posts by Debbie Williams (see all)