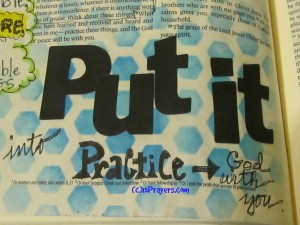 Have you ever wanted to have God with you?
It is possible. And I strongly recommend it!Phil. 4:9 says, "What you have learned and received and heard and see in me — practice these things, and the God of peace will be with you."
I know some people who do not have faith. They face every life situation alone. They fend for themselves. They have no hope in anyone other than the face in their mirror. It saddens me.
I know some other people who claim to have faith. They attend church. They carry their Bible around. They volunteer to help with Bible school or other activities – as long as it doesn't inconvenience them too much.
Read the rest of this post at 13Prayers.com.

Kathy Shaull is an author and believer in the expansive grace of God. Her novels are set in her own corner of rural Oklahoma and focus on the theme that Everyone Deserves a Second Chance.
She has a heart for those who have experienced loss and are in need of a positive thought, the simple Truth, or a smile.

Latest posts by Kathy Shaull (see all)