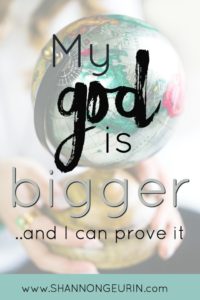 Sometimes I get overwhelmed when I look back at the way God has carried me over the years. He has carried me during my darkest times. Times when I couldn't feel Him. Times when I questioned whether he even loved me.  Listen friends, if He can heal me and bring freedom to me that He can do the same for you! We serve a big God my friends, and if you need proof today,
I got yo proof.
I went horseback riding while I was at New Life Ranch last weekend. It was quite the experience. My horses name was Stickers. Stickers carried me down a trail that was winding, rocky and steep. As he carried me up that oh-so-steep path I was reminded of the way Jesus carries us.
I was reminded of how strong my Jesus is. 
Read the rest of the story at ShannonGeurin.com.