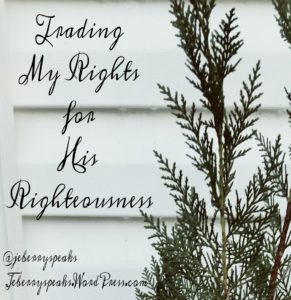 Closing in on the end of the Easter season, one thought has been with me this entire past weekend…..
"My Rights for His Righteousness"
This may sound simple phonetically. But take a minute to think about what this truly means.
I've always been a very opinionated lady. Ever since I was a little girl I remember always being someone who could never really be told what to do. Grant it a lot of scenarios in my life, and the culture we live in, made me take up the "I have the right to do anything" approach to most things. My entire entrance to adulthood reflected that thought approach. I felt like I had the right to do anything and everything that I wanted to do and say what I felt needed to be said. The problem with that though, is that the only person you're really considering in  that mindset is yourself. I'm sure if you look above you will notice all the I's mentioned. And living in the "I" zone of life will keep us from ever seeing from the Christ perspective.
Learn how J.E. Berry came to see things from a new perspective by visiting JEBerrySpeaks.com.
J.E. Berry is a writer and speaker. She has worn many hats in ministry over the years. Her and her husband have been in ministry together for many years, along with their five children. Through church plants, life groups, worship, outreach, discipleship and youth pastoring. Jade and her husband previously ran a small home-grown ministry, Ark Disciple Center, through which they ministered to the community and assisted churches and other ministries in planting, events and outreach.