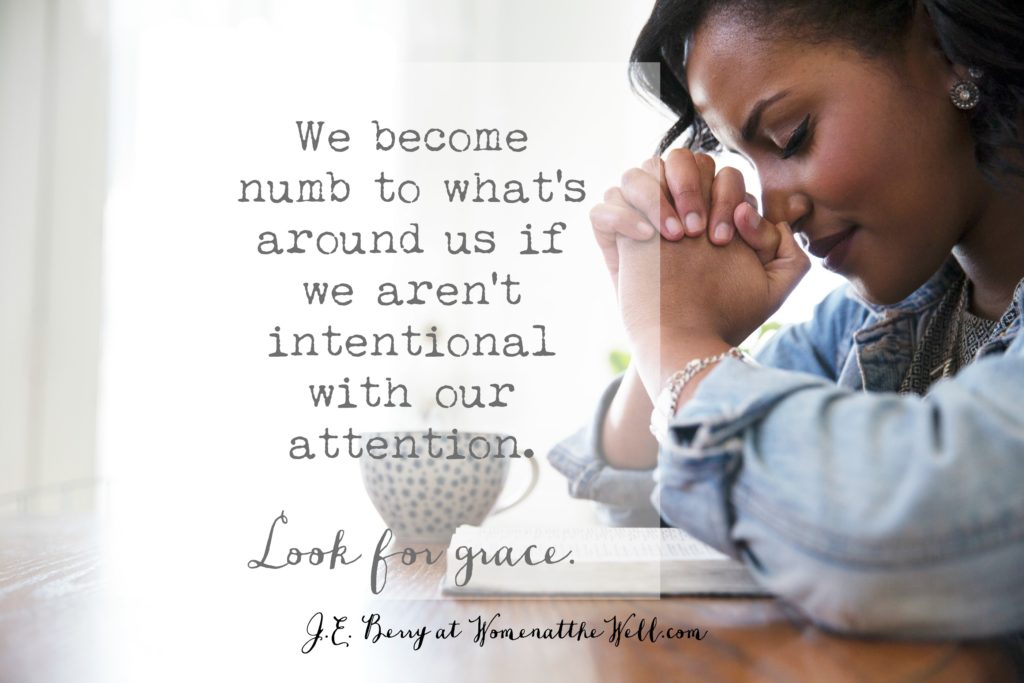 There's no better time to look for grace than this week, when so many around us are thirsty for it.  
And one of the grace-giving opportunities I have along this journey of faith and writing is to meet women at the Well who personify it.  Women who pour out their hearts for us to feel and write out their lives for us to read.
So I'm applauding J.E. Berry for doing just that, and I'm also celebrating the launch of her book this week, The Truth About Happiness.  Be blessed as she shares a dose of grace from her blog right here at the Well:
On a regular basis, we walk through life missing a good portion of things that make up the big picture. We get in the car to drive and don't pay much attention to the engine under the hood, unless it doesn't start.
We order our food in a restaurant and don't give much thought to the process it took to get the food to the table, unless there is something in the food and then you wonder what the sanitary conditions are in the kitchen.
As a people, we become numb to a lot that happens around us if we aren't intentional with our attention.
What about the doses of grace we receive all day, everyday? How close of an eye are we keeping on those?
As a mom, wife, redeemed soul, I have been taking glimpses at those every-day graces, moment by moment. In the moments when I count my children coming out of the grocery store and realize how much grace God has lavished on me to trust me with 5 children.
Or the moments when I look at my awesome husband and see God's grace in the redemption of my purity through the marriage He planned for me. How time and time again His grace shows up and redirects me onto the path He laid out for me. These moments are the picture of God's grace. 
"And we know that for those who love God all things work together for good, for those who are called according to his purpose."
Romans 8:28 ESV
Today I challenge you to slow down, and take a look around you. Look at every dose of grace that surrounds your existence. Look for every moment to give God praise for His undying love and never-ending GRACE.
"Let us then with confidence draw near to the throne of grace, that we may receive mercy and find grace to help in time of need."
Hebrews 4:16 ESV
Read more about J.E. Berry and her new book at J.E.BerrySpeaks.com, and don't forget to see and share some grace today.