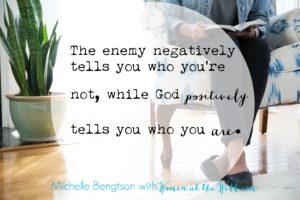 As we celebrate our country and our freedom this weekend, Dr. Michelle Bengtson shares how we can also celebrate our freedom in Christ that gives us freedom from comparison.
I sat with my back pinned against the back of the upright chair, legs crossed, assessing my choice of attire for the evening from the boots to the pants to the lace blouse, and finished off with the jewelry—never leave home without it.
Was my choice appropriate for the evening? It seemed to blend in sufficiently with Executive Ellen's and Powerhouse Pam's attire. I didn't mean to, but I was in comparison mode. Oh how I hated that—I always ended up on the short end of the stick.
I spent the evening planning an upcoming event with other area ministry leaders, honored to be included but secretly wondering how I made the guest list.
It wasn't so much what I wore on the outside that I was comparing with the others, if I was honest with myself. These were high-powered ministry women with years of successful ministry behind them that were more impressive than most ministry leaders I personally knew. Their impact for the kingdom was mighty. They each knew their call and they confidently lived and breathed it each day for decades.
As I sat listening to their suggestions for the event, and adding my thoughts when warranted, I fought to ignore another deafening voice. One that sought to mock me at every turn.
"Why are you even here? You don't belong here."
"What have you done for the Kingdom of God that even comes close to comparing to these other women?"
"Maybe God doesn't trust you as much as He trusts these women to impact the Kingdom of Heaven."
By the time the evening was over, I couldn't get to my car fast enough. Thankful that dark skies fell early during these months, tears cascaded down my cheeks and no one could see them through my windows.
What had I done in my life that had any real significance for the Kingdom of Heaven? I wasn't preaching revivals or teaching on a weekly radio or television program. I hadn't even devoted my life to teaching children's Sunday School (for which children should have been grateful! At least I knew where I wasn't gifted!)
I'm not even sure how I saw through my tears to drive home that night, but by the time I arrived in my garage, I turned off the ignition, sat in the solitude of my parked car and wept.
Could it be true, Lord? That you don't trust me to have a significant impact for the Kingdom?
Just the thought of it grieved my heart.
All I wanted was for others to see Jesus in me. To want to know Him. For me to one day hear the Father say, "Well done, my good and faithful servant."  
Continue reading God's freeing words to Michelle at DrMichelleBengtson.com.