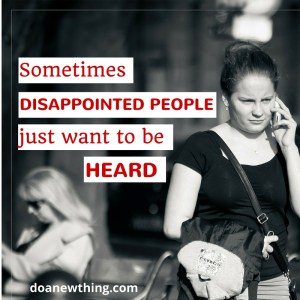 We all know the old saying, "You can't please everybody".  That is true in business, in ministry and in life.  No matter what you do, someone is going to be disappointed.
Sometimes that disappointment is justified.  If we don't live up to a promise, or we make a costly mistake, we have failed to meet expectations and need to do our best to make up for it.
But often, we've done everything "right" and with the best of intentions, and still … somebody's expectations have not been met and they are unhappy.
I find it interesting that Jesus, who lived a perfect, sinless life, managed to disappoint an awful lot of people.  Mary and Martha were disappointed that He didn't arrive in time to heal Lazarus. The Jewish leaders were disappointed that He didn't point an accusatory finger at an adulterous woman.  Even His disciples, His closest friends and allies, were disappointed that He had no interest in setting up a military kingdom on here on earth.
So how did Jesus deal with all these disappointed people? Read the rest of the story at Do a New Thing.