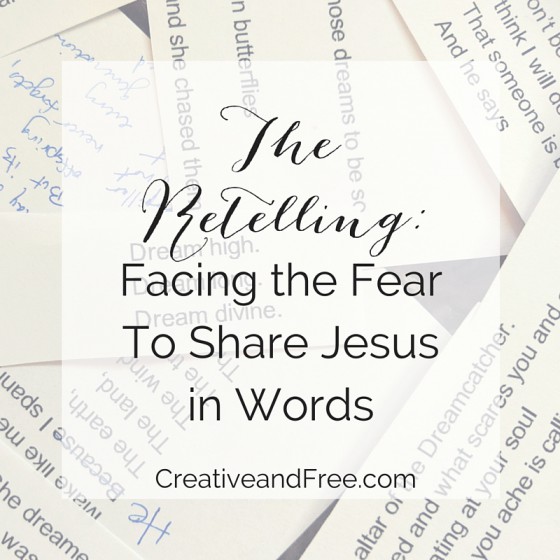 At Women at the Well, we believe faith is better shared.  But we know it isn't always easy.  Truthfully, it's down right scary sometimes.
Christina Hubbard knows that all too well, as you'll soon see–and feel.   God knit our stories and our hearts together last week at a writer's event, and I know the beauty and honesty of her words will bless you as much as they did me.
Sharing Jesus in words has always been a struggle for me, especially in person. Many of us are afraid to tell our Jesus stories because we think our words are not good enough. Or we're not good enough. SHARE is the word for this week's Five Minute Five free writing challenge, a creative community that joins forces in a beautiful flash mob of words for five minutes. (The lines indicate where my free write begins and ends.)
He was thirty, but I withheld water. 
He asked me outright to share.  On a plane enroute to Baltimore, I sat next to a U.S. soldier on his way home after a long overseas posting. He was eager to eat a McDonald's hamburger again and sleep in his own bed. I was on my way to spend two weeks with my college boyfriend.
Shortly into our conversation, he asked me point blank, "Like what else is there? God? Heaven? There's gotta be. What do you think about all that?" His brown eyes lit up in hope of my answer.  The silence hung above us like yellow air masks had just fallen from the ceiling, their tubes dangling awkwardly between us from a sudden change in cabin pressure. I probably reached for my mask, but it wasn't there.
I don't know if I've met someone so eager to know about God since then. Someone who was completely open to the gospel. Call it spiritual hunger or a deep thirst for God. Whatever it was, he wanted to know how I could help him. Even after I stuttered for about fifteen seconds, he asked me again, "Do you ever think about that?" But I didn't give him the water.
Shame and stammering.  I've never loved putting my beating heart on the table. That is also what keeps me from sharing. The fear of rejection and subjection and objection to the person God made me to be, the me who feels fleshy and boney, completely and frustratingly imperfectly human, the girl who used to dance in her driveway unashamed.
I don't love putting it out there—my thoughts, feelings, and stories. It's hard to be honest and sometimes I'm not. I fumble and stumble, mumbling, "What am I doing?"
Continue reading her faith story at CreativeandFree.com.  
I'm a mama. A lot of a days I'm a mess of a mama. I'm a daughter. Kind of messy there too. But I have a Heavenly Father who thinks that I'm to die for. I'm a wife. Married to my best-friend and my 6th grade crush. I saved him for last, though most days he puts me first. I'm one blessed mess.

I like to write. Why do I write? Kind of hard to say, but I'll go straight from the hard part and hit straight to the heart part. It's about that daughter part. What this daughter misses most about her mama are the encouraging words. So I'm just here leaving a legacy of love and words to mine. For them, for me, and for anyone else who could use the same. Sitting at the well. As I simply write out life and fight out fears in the light of His Word.
Latest posts by Christie Hughes (see all)