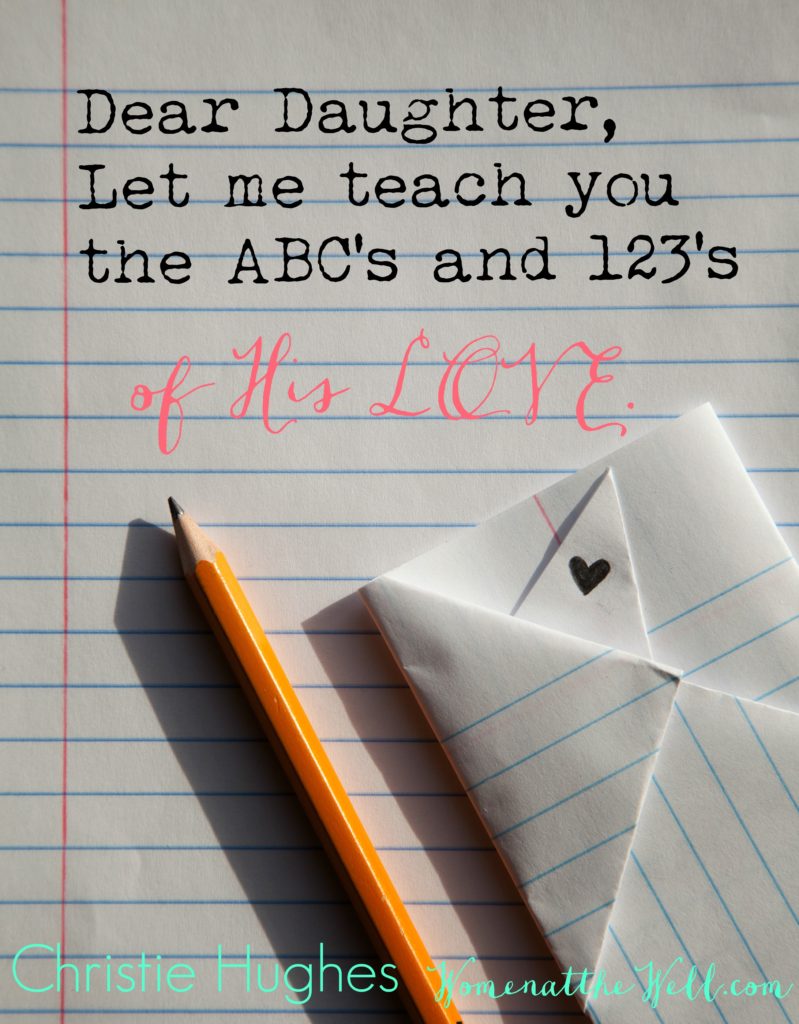 Here's the repeated phrase I heard all summer and again this morning:  "I'm 100 percent excited and one percent scared. What if nobody likes me?" My soon-to-be kindergarten daughter said this with a painful wince, like she'd just been bitten by a nervous bug.
Like mother like daughter.  I'm four decades in, and I still can't escape the little school girl within.  While school starts back this week, I just returned from back-to-back weekends at writers' and speakers' conferences, where I too felt like the new kid on the block.
Toting notebooks, fresh packs of pens, and pockets full of nervous butterflies. Hustling and bustling among 800 other girls, I mean, women.  Taking in the sounds of heels clicking through lobbies, constant chatter, and the sound of me exhaling and sinking into well-worn chairs.
Although there were countless God conversations that melted my heart and lit up my confidence, there was that one that didn't.  Why, oh why, do I glide by the positives that were plenty, but stop at the one that was negative?
Here's the flashback.  I loaded up at the breakfast buffet, scanned the cafeteria for a loner, and then made my way through the maze of women. Carrying my tray—and the familiar thought—I'm 100 percent excited and one percent scared.  What if nobody likes me?
I spotted a table of one, stepped up and said, "Is this seat taken?"  My heavy hands got ahead of my ears as I started to set my tray down before hearing, "I'm sorry, it is.  I'm saving it for a friend."
"Oh, OK,"  I stammered as I painted on a smile.  And I'd love to tell you I brushed it off, went and gobbled down my food, and happily greeted the day.  But I didn't.
I walked around the corner, left my tray and my confidence behind, and then hightailed it up to my room to sink into my chair of silly school-girl rejection.  I know.  I know. It wasn't her.  She was still nice as can be—it was just me.
So I prayed and listened for the response of the Teacher.  Here's the phrase that ushered me back and welcomes us daily:
When you're filled with nervousness and insecurity, and even if that seat is taken, just SIT IN MY LOVE.
So that's what I'm telling both my girls on the first day of school.  Just sit in God's love. And be on the look-out for the lonely and the timid, and especially those who look like they've got nervous butterflies swirling in their tummies.
Then you hightail it over to them and offer a seat right beside you. 
And always be ready to teach them the ABC's and 123's of God's love. Tell them what I'm telling you:
You're an: Adored, Beautiful Child
1.) Loved by the Father
2.) Redeemed by the SON
3.) and Empowered by the Holy Spirit
There you have it.  The simple ABC's and 123's of God's love.  And they are for ALL of us daughters.
I'm so grateful that whether we're five or ninety-five, we're never too old to be taught like a child or too young to receive wisdom from the Teacher.
And thank YOU for allowing me to sit and learn beside you as we share His sweet words of love here at our table.
Feel free to share any of YOUR school-girl moments with me.  And if you haven't already, subscribe to the Well and go share our site with a friend.  Whether it's a round table or a circle of women, we are all to be a welcoming Well—where faith is better shared.
"You call me 'Teacher' and 'Lord,' and rightly so, for that is what I am." John 13:13
But in your hearts revere Christ as Lord. Always be prepared to give an answer to everyone who asks you to give the reason for the hope that you have. 1 Peter 3:15